About The Levee House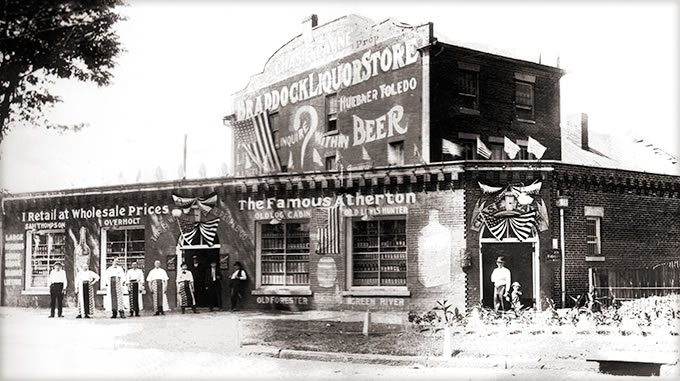 The Levee House stands at 127 Ohio Street as the only remaining original riverfront structure in Marietta. The river, once the source of trade and transportation, formerly was lined with dry goods stores, hotels, restaurants, and taverns. The Levee House has been all of the above.
The structure was erected circa 1826 for Dudley Woodbridge, the first merchant of the Northwest Territory, a dealer in dry goods. After his business prospered, he moved to larger headquarters. The building then became a hotel to accommodate the river travelers and in 1911 a one-story addition was added which became a saloon. The hotel, named The Golden Eagle became very popular with travelers. At one time, it was also known as La Belle Hotel.
Architecturally, the original building is a fine example of the federal style of architecture. The Flemish bond brick pattern along with the proportions of the room heights, window spacing, and molded brick cornices are indications that the builder was Colonel Joseph Barker.
In 1980, a local business man and politician, Harley Noland, opened The Levee House Café on a shoestring budget but with great confidence that the people of the Mid Ohio Valley would enjoy deliciously prepared meals of the finest and freshest ingredients.
30 years later in 2010, local chef David Hearing and his wife Kimberly brought new ownership and their own confidence to The Levee House. After minor renovations — a new look as well as a new menu — the Hearing's opened The Levee House, with new zeal for serving the Mid Ohio Valley. Each entree and special are carefully prepared by Chef David and his small kitchen staff.
The Levee House offers a separate dining room for meetings and private parties, as well as outdoor patio seating with a beautiful scenic view of the Ohio River. Full catering services are also available. The staff at The Levee House thank you for your patronage and hope you will enjoy a relaxing and delicious dining experience.